Gay Texting: How To Text Hot Gay Guys
You meet a guy you really like and BAM! Brain fart. You don't know what to text. So you text something inane like,  "It was nice meeting you last night." Right. Show him you have the personality of a parking meter!
You know there are more creative ways of saying hello but you're blanking. Texting reveals your personality. It's a digital first impression after the first meeting. Texting is also testing. Text a guy you don't know well and he immediately lapses into test questions: Does he like me or does he just want to be friends? Do I want to date him or sleep with him? What are his intentions? Is he funny, boring, interesting? Is he a player? Is he relationship material? Is this someone I'd want to go out with? Is he a stalker? A Stage Five Clinger?


Listen to a sample of the book right from your browser!
/gay-texting/
How Long Should You Wait To Text?
Respond instantly and you come across as desperate. But if you wait too long you sound disinterested. How do you judge the timing so that you don't put him off completely? Researchers have actually identified social rules about the timing of texts that have the most impact.
Why Is He Taking So Long To Respond?
He seemed so interested when you first met and now his texts are one-word answers that come sporadically and take longer and longer to arrive. You're confused and don't know how to "shake the tree" and get the momentum back.
How Can You Come Up With CONSISTENTLY Clever Texts?
This is a critical skill to have, especially if your guy seems ambivalent or somewhat disinterested. You know deep inside that if you keep texting inane things like "how was your day?" you're going to lose him. So how do you keep the texting vibrant?
How Do You Amp Up The Romantic Tension?
You don't need lessons in talking dirty over text but what if you really like this guy and you don't want to sound like you're on GrindR trying to hook up? This is especially tricky if you sense that you are more interested then he is. You know if you come across too forward you're going to ruin things but at the same time you don't want to fall into the friend zone. So how do you steer the conversation toward a more romantic/sexual horizon?[/vc_column_text][/vc_column][/vc_row]
Take A Look At My 9 Step Method:
Step 1:
GET SHY GUYS TO ASK FOR YOUR NUMBER.
You can' t text him unless he gets your number. Some guys are too shy to ask so I' m going to show you 7 Clever Ways To Get Him To Ask You For Your Number. Here' s a great example…
You: Let me see your phone a sec.
Him: Why?
You: I want to take a picture of you so you can send it to me. (takepic)
Him: Cool. What' s your number?
Click on P. 15-20 to see more clever tactics.
Step 2:
TURN DISTANT GUYS INTO PASSIONATE DATES.
Start by making him smile and look forward to your fun, quirky texts. Example: "Do you think naming two puppies Millie and Vanilli is a little over the top? Learn the 10 Commandments To Texting Distant Guys. You' ll have him panting for your next text and wanting to hang out with you in no time. It' s all on page 28-45
Step 3:
GET GUYS TO PURSUE YOU.
Learn how to give a guy that same feeling of "I have to have him" that he gets when he sees a famous model. Do it by amping up the attraction through the timing and the expressions of your texts. Check the "Text Timing Chart" –it shows you how long to wait before responding, depending on the situation (sometimes it' s hours and days; other times it' s right away). You' ll also see dozens of sample text dialogs showing how to ramp up romantic tension. P. 41-54.
Step 4:
SAY SOMETHING CLEVER.
What can you say to somebody that won't sound cheesy or an awkward, try-hard attempt to sound cool? Learn the 7 biggest mistakes most gay guys make when trying to keep up a text thread. (And how to avoid them). Try my long list of irresistible, witty texts. They'll capture the imagination, stir curiosity and set the stage for a real connection. Use them TONIGHT. They're all on P. 55-75.
Step 5:
CREATE ATTRACTION.
Discover the most powerful approaches to getting him interested in you. They' re GUARANTEED to make him look at you and think, "Tonight just got more interesting." They' re fun to do, they put a smile on his face and best of all, they' ve been field tested with hundreds of guys! These flirty texting tips are all on P. 76-82.
Step 6:
TURN HIS TEXTS INTO CALLS.
Don' t let him ' texturbate!" That' s when he spends more time texting than talking. You' re worth a phone call. Find out the 5 ways you can get him to call if he doesn' t do it on his own. What are they? Check it out on P. 31-36.
Step 7:
WHAT TO SAY ON THAT FIRST PHONE CALL.
Let' s face it, that first phone call is going to be a little awkward. I'll show you how to prevent 'conversation stalling" and awkward silences by using the "Multiple Threads" concept. By talking in a way that creates mild suspense, you'll create energy, rapport and the feeling that you have a lot to talk about. For example, you can rephrase boring questions into interesting comments. Boring: "How many brothers and sisters do you have?" Interesting: "I bet you' re the youngest in your family." You' ll also learn an amazing body language trick that projects warmth, confidence and sexiness over the phone. It's all on P. 47-70
Step 8:
POST-DATE TEXTING THAT' LL HEAT UP THE SEXUAL AND ROMANTIC TENSION.
If the date went well, turn on the text charm with flirty text messages like this one:
You:"Stop!"
Likely reply: "Stop what?"
You: "Stop thinking about me. See, you' re doing it…right…now.
If the date didn't go well (damn, what did you do—tweet through dinner?!) and you want another shot, you' ll see plenty of "redemption texting" examples. If he was so boring at dinner the corn on the cob covered its ears, you' ll find great examples of how to turn him down or turn him into a friend. It' s all on P. 112-115.
Step 9:
IF YOU' RE ONLY IN IT FOR THE SEX.
Let' s face it, some guys are doable but not dateable. If he' s on the same page it won' t be hard to make him a regular sex thang. But how do you turn a guy who wants to date you into a "friend with benefits?" By turning to P. 85-95.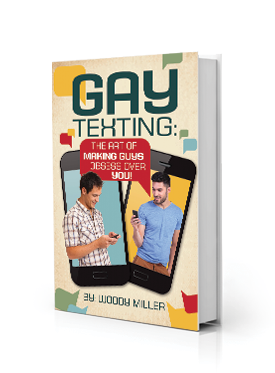 It's a PDF! Start Reading In 60 Seconds
Downloads
To Phone, PC or Tablet
1. GET MORE DATES
Turn texts into meetups
2. HAVE MORE SEX
Your next orgasm depends on your texting skills!
3. TURN THINGS AROUND
Things go south quickly–save yourself!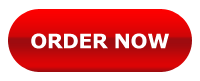 $19.99.
30 Day Money Back Guarantee
Instantly downloads to your pc, mac, tablet or mobile device.
The Price Also Includes FREE eReports Worth $30!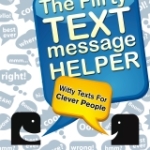 300+ funny, pre-written flirty texts. Hand-picked by our team of writers & researchers. No clichés or pickup lines!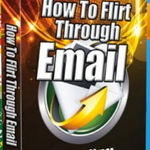 Learn how to assume rapport, use call back humor and flirting techniques that only work on email.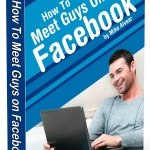 Ingenius poking tactics, get HIM to start a convo, and Facebook-specific flirting lines you can use tonight!
Or Buy It Here
(but you won't get the free $30 reports)
Hey! Who Wrote This Book?
I started my career by syndicating a sex and relationships column all over the country and I sort of became known as the "East Coast Dan Savage." I then went on to write my first gay sex book, Men Are Pigs But We Love Bacon (Kensington). Next thing I knew I was auditioning for a co-hosting role in a heterosexual sex makeover series called The Sex Inspectors.
With the screen test cameras rolling, I remember the production chief asking me what I thought of women faking their orgasms. "That's nothing," I sniffed. "Men fake whole relationships."
I got the job.
The show went on to be an international hit, airing in 12 countries, including the U.S. on HBO. It led to my biggest book yet, Sex Inspectors Master Class: How To Have An Amazing Sex Life (Penguin).
I love giving advice to people. I love to see barriers crack and humanity come to the surface. I hope I'm able to do that with Gay Texting  and hope you enjoy reading it as much as I did writing it.
Try Our 3-Book Bundle–MASSIVE Savings!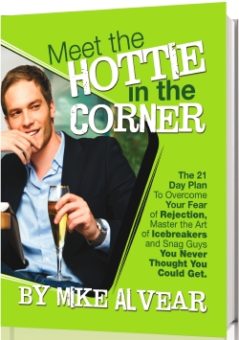 MEET
Have more sex, get more dates, or find a husband with this step-by-step manual that shows you how to approach, meet and attract beautiful gay men. From getting rid of fear of rejection to knowing exactly how to start a conversation, this is the ultimate gay dating blueprint. With glowing reviews from The Huffing Post ("A sensational way of meeting gay men!") no wonder it's the #1 best selling gay dating ebook in the U.S.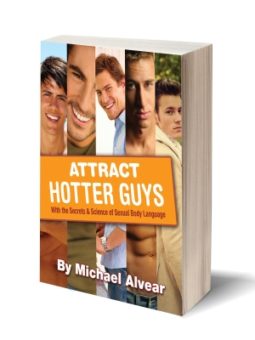 ATTRACT
The first and only body language guide for gay men. It's packed with inventive body language strategies proven to make you more appealing and approachable. Learn which gestures, postures and expressions attract gay men–all based on peer-reviewed studies done byleading psychologists in non-verbal communication. Are you sending go 'away signals'? Your approaches turning guys off? This guide will help you figure it out.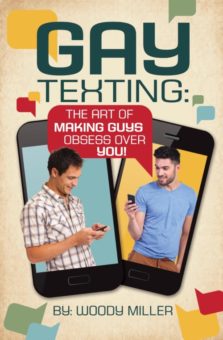 TEXT
Now that you've met the hottie it's time to text! Capture his imagination, stir his curiosity and build attraction with a blend of clever, thoughtful texts. It'll reveal your personality and make him think, "Wow, this guy is really special!" This guide will show you how–along with solutions to common problems like dealing with indecisive guys and turning his ambivalence into passion.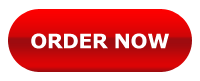 $29.99
30 Day Money Back Guarantee
Instantly downloads to your pc, mac, tablet or mobile device.
Do you really offer a 30 Day Money Back Guarantee?
Absolutely! We run about 1-3% return rate compared to 10% for the industry. Why? Because the books are that helpful. And funny. Don't forget funny. We love funny. If you're dissatisfied in ANY way for ANY reason, just email me at [email protected] dot net and I'll cheerfully refund your money, no questions asked.
Still not convinced? Check out PayPal's return policy. Ours is more generous than theirs!
Is The Server Secure? Will My Identity Be Protected?
Yes, and of course. We use one of the most respected shopping cart/financial processing firms out there (Get DPD and Stripe). There is absolutely nothing to be worried about. Also, we will not use your email address for anything other than sending you the link to the downloads.
How Does The Download Work?
My books come to you as PDF downloads—the industry standard for digital downloads. Once you complete the purchase you will receive two emails: 1) A receipt for your purchase—along with my email address in case you want your money back. 2) An email with a link to the download page. Make sure you check your junk. I mean your junk mail—sometimes our customers don't think to look there.
What next? Click on the download links and the books will be zapped right into your pc, mac, tablet or smartphone. You can generally start reading the books within 60 seconds of completing the purchase.
What Qualifies You As An Expert?
I've been a sex and relationships columnist for the last twelve years. As you can see in Wikipedia, I've also authored 8 books on the subject, including Sex Inspectors Master Class: How To Have An Amazing Sex Life (based on the TV series I co-hosted that aired in the UK on Channel 4 and on HBO). I also blog for the Huffington Post, have written for the New York Times and done multiple commentaries on NPR's All Things Considered. I've also been profiled in magazines like Marie Claire and Creative Loafing, and written for WebMD.