HOW DO TOPS STAY ROCK HARD?

WHAT'S THE BEST WAY TO TOP A GUY WITHOUT HURTING HIM?

WHAT ANGLE OF ENTRY IS MOST PLEASURABLE TO THE BOTTOM?

GET HARDER THAN A FROZEN TURKEY
Improve your erections and reduce performance anxiety with clever, no-fail techniques, especially when you have to wear a condom. Make it happen by downloading this PDF to your device. Only $19.99
DISCOVER YOUR INNER TOP
Learn how to overcome self-limiting thoughts ("I'm not masculine enough") that stop you from trying to top or from doing it successfully.

FIND YOUR TOPPING PERSONALITY
Learn how to express the kind of masculinity you feel comfortable with and have the kind of topping experience that personally appeals to you.

LEARN PENETRATION & THRUSTING TECHNIQUES
Find out the most effective positions, angles of entry, and thrusting styles that'll make you a very popular man.
LAUGH WHILE YOU LEARN
Laced with a laugh-out-loud narrative, the book is an accessible, funny, entertaining how-to guide.
Don't Just Read It. SEE IT
Enhance your understanding with medical illustrations that demystify anal sex and show you the best way of penetrating a guy.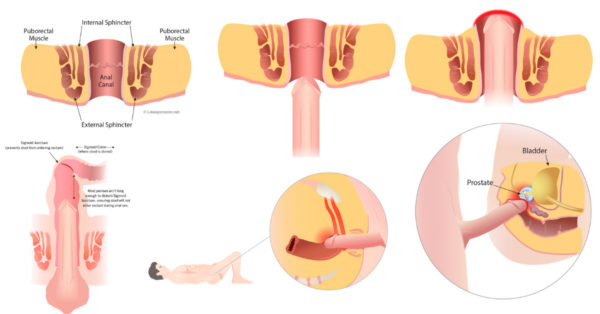 TAKE A LOOK INSIDE THE BOOK!
How The Best Tops Approach Foreplay
Furniture-Breaking Sex Starts With Fluffing Up The Pillows
Contrary to what you've seen in porn, great sex doesn't start with questions like "Hey, you awake?" or commands like "Get in the truck, bitch."
It starts by cultivating an agonizing joy called anticipation.
Anticipation is an emotion made up of enthusiasm, pleasure, excitement—even anxiety— about something you want. Let's use cookies as an example
Scenario 1
Your partner walks into your home and you immediately wave a plate of delicious home-made chocolate chip cookies under his nose. "Eat, EAT!" you say, and he does. Yum!
Scenario 2
Your partner walks into your home and you immediately wave a plate of delicious home-made chocolate chip cookies under his nose. "Smell," you say. He reaches for one and you whisk the plate away. "Not so fast," you say. "You have to let them cool." You put the plate right in the middle of the table so he's constantly looking at its chocolaty goodness, salivating and fantasizing how good they'll taste. Finally, after they cool, you offer him one.
Which cookie tastes better?
The one in Scenario 2. Why? Because anticipation amplifies pleasure. It creates so much excitement, activates so many nerve endings that food tastes better with it than without it.
It's the same with sex. Replace the chocolate chip cookies with your erect penis and you can see what I'm driving at. You can build so much anticipation in your partner he'll want your dick more than he wanted those cookies. And he'll swear it tastes better, too!
There is a secret to making him want your dick more than he wants his next breath. It's a technique I call "Suspense & Resolution."
You can see non-sexual examples of it everywhere. Take, for example, the high-schooler dying to find out if he got accepted to his preferred university. The letter arrives.
SUSPENSE.
He rips it open and reads the answer.
RESOLUTION.
Or an Academy Awards presenter. It's nearly midnight and he tears the envelope for best movie of the year.
TENSION.
He announces the winner.
RELEASE.
Or a professional tennis player. It's match point at Wimbledon. The champion you're rooting for just missed his first serve. He tosses the ball up in the air to hit the second serve.
ANXIETY.
It clears the net and lands inside the service box.
RELIEF.
Now let's apply this to sex: You have a date with Mr. Man, a teeth-achingly beautiful guy who renders you incapable of thought. You invite him back to your place.
Scenario 1
You walk in the door and he blows you before you can get your pants off.
Scenario 2
Mr. Man slowly takes your clothes off, kisses your body from chest to stomach. He's headed south. For you, there's a longed-for event (a blowjob). But there's uncertainty about whether it's going to happen ("will he or won't he?").
SUSPENSE.
He kisses the inside of your thigh.
TENSION.
He heads away from your crotch and kisses your mouth. Damn! Doesn't look like the hopeful event is going to happen.
ANXIETY.
Suddenly he heads south toward your crotch again.
EXCITEMENT.
He kisses your balls.
SUSPENSE
Finally, he puts his wet mouth on your raging hard-on.
AHHHHHHHHH. RESOLUTION.
Most people would agree that Scenario 1 makes their blood rise but Scenario 2 carbonates it. Why? Anticipation allows you to get greater pleasure out of the act. It doesn't just heat up your body; it carbonates the blood.
Now, how do you apply the concept of "Suspense & Resolution" to anal intercourse?
READ THE REST OF THE BOOK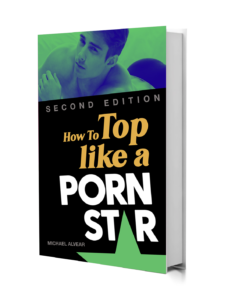 Downloads as a PDF To All Devices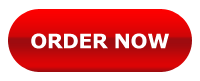 If you're dissatisfied for any reason we'll cheerfully refund your money, no questions asked!
INCLUDES THESE BEST SELLERS!
A $30 value yours FREE

Table Of Contents
★ Discovering Your Inner Top
Expressing The Kind Of Masculinity You Feel Comfortable With
★ What's That Smell?
Real-World Tactics For Overcoming The Yuck Factor
★ A Pain In The Butt
What You Can Do To Ease Your Partner's Pain
★ The :60 Sphincter Release
Teaching Your Partner How To Relax His Butt
★ Getting Him To Want You In The Worst Way
The Path To Glory Is In Him Aching For Your Penis
★ How The Best Tops Approach Foreplay
Furniture-Breaking Sex Starts With Fluffing Up The Pillows
★ Best Positions and Angles of Entry
Missionary? Doggie-Style? Straight in? Angled Up? It Matters.
★ Enter The Dragon
Using The :60 Sphincter Release On Your Partner
★ Thrusting Techniques
Getting The Most Pleasure Out Of Being Inside Him
★ You're Not In Charge
The Boss Is The Guy Underneath You
★ How To Get Harder Than A Roll Of Quarters
Improve Your Erections And Reduce Performance Anxiety
★ The Cure For Condom-induced Impotence
What To Do When Latex Makes Your Willy Go Nilly
★ How Alcohol Affects Your Erection
A Little Will Raise It. A Lot Will Ruin It.
★ Coming Soon: YOU
How To Deal With Premature Ejaculation
★ Worried Your Penis Isn't Big Enough?
Compare Yourself Against The Latest Studies In Penis Size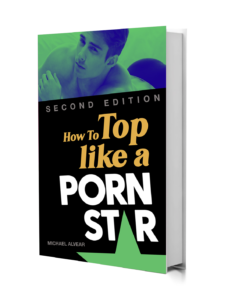 Downloads as a PDF To All Devices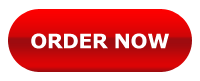 If you're dissatisfied for any reason we'll cheerfully refund your money, no questions asked!
INCLUDES THESE BEST SELLERS!
A $30 value yours FREE

Introduction
Every top knows what he's doing.
He always gets hard, knows how to relax his partner, doesn't worry about his partner's hygiene, knows exactly what angle to go in at, never loses his erection and cums like a fire hose.
It's with these widely accepted notions that my editor first rejected my manuscript. "A book about topping?" he roared. "What's there to write about? It's like a Thanksgiving turkey–you spread the legs and stuff it in!"
That was in 2015. How To Top Like A Porn Star went on to become a bestseller, embarrassing the editor who turned down the original manuscript. The book became so popular that you are holding the new, second edition in your hands.
I knew the book would be successful because as a sex columnist I've received thousands of questions about topping from embarrassed gay men. "How can I get harder?" was a question I'd get as the co-host of HBO's The Sex Inspectors.
"How can I relax my partner enough to penetrate him?" was another common question I'd get as the author of sex advice books.
And hygiene–"How do I deal with the 'yuck factor'" –is a universal complaint I'd get as a sex columnist.
But my favorite question of all time, the one that captured the longing gay men have for a more versatile sex life was this one: "How do I find my inner top?"
Indeed.
Being the penetrator, or wanting to be the penetrator, poses a series of logistical and psychological obstacles. The smell or unsightly stains that can accompany anal sex can ruin your erection. So can performance anxiety. There you are, rock hard until the moment of penetration. Then suddenly Willie becomes Will Not.
Condom-causing impotence is another obstacle. There you are, rock hard (what is it with you and rocks?), but when the condom comes on you feel like you're trying to play pool with a rope.
The problems don't end there. What if you're dealing with a newbie who's tighter than two coats of paint? What should you do or say to make him comfortable?
By the way, saying, "Relax! Relax!" is actually the worst suggestion ever. It's like being in a bar and having a friend say, "Smile! Smile!" You want to punch him. Same thing with your partner. YOU try relaxing while somebody tries to open an umbrella inside your ass!
Getting your penis into the promised land also poses a few tactical challenges. What's the best angle of entry? What's the best position to start with? How are your knees holding up? How do you keep hard while you're trying to figure all of this out?
And once in you're tasked with doing double duty—giving as well as taking pleasure. Do you "make love" or give him a back alley pounding? Do you lovingly undulate or bang him like a screen door in a hurricane?
Whew! That's a lot of issues for the simple act of topping. Wasn't it supposed to be easy as (warm) pie? Well, if it were that easy then we'd all be having anal intercourse, wouldn't we?
Gay men have a lot less anal sex than you'd think. The Journal Of Sex Medicine shocked the gay community a while back with its sex survey of 25,000 gay men in all 50 states. It asked a simple question: "Have you engaged in anal sex in the past month?"
Guess how many guys said yes?
Go ahead, guess.
Thirty-seven percent.
That wasn't a typo. Thirty-seven percent! Clearly, anal sex isn't easy for a lot of gay men, but that's going to change with the new, second edition of this book. Not only did I expand some of the chapters to update them with new information, but I also added new ones.
The most important one has to do with a brand new way of relaxing your bottom partners for easy penetration.
I assembled a (butt) crack team of proctologists, colorectal specialists, and physicians with a masterful knowledge of anatomy. We brainstormed ideas, pored over clinically-tested muscle relaxation techniques experts use in other parts of the body and developed one for the sphincter.
Then we asked my readers to test it with their partners. We got feedback from these, ahem, end-users, and made refinements until everyone was satisfied with its effectiveness.
It's called the :60 Sphincter Release and it's a total game-changer. No more telling your partners, "Relax! Relax!" No more frustration at being unable to penetrate because the receiver is too tight.
The :60 Sphincter Release is based on a relaxation technique called PNF, Proprioceptive Neuromuscular Facilitation. It's going to pop open up your sex life like a can of soda.
Next, I wanted this second edition to have what no other gay sex book has ever had: Graphic, no-holds-barred, in-your-face medical illustrations. The kind you won't see on Google Images or even in the gay-friendliest medical journals.
My instructions to the graphic designer were simple: "I want you to gross me out and turn me on." I'm happy to say he succeeded. The illustrations look like an anatomy professor wore X-ray glasses to a porn shoot. They will give you a profound understanding of the mechanics underlying anal sex…and yes, a slight but unmistakeable stiffy.
You're welcome.
Finally, we're going to discuss what makes a good top, as this reader noted:
I always hear guys saying, "I love it when a top knows what to do." But they never specify just what that top is doing that is so great! I know there's the whole massaging of the prostate thing, but if you're a top can you really feel the prostate that well with your dick? I mean, what the hell makes a great top? Is it a certain fuck stroke, is it just being patient with you, is it more psychological things he does like acting dominant?
This is a fabulous question–what makes a good top? You're about to find out. My intention is to help you become the kind of guy everybody wants to get under. Whether you're new to the scene, are exclusively bottom-oriented, and want to be more versatile or exclusively top-oriented but want to be better at it–you're going to find profoundly helpful advice in this book.
Let's get to work. That hole in your sex life isn't going to fill itself, you know.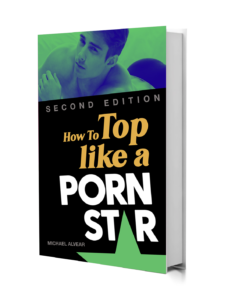 Downloads as a PDF To All Devices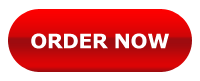 If you're dissatisfied for any reason we'll cheerfully refund your money, no questions asked!
INCLUDES THESE BEST SELLERS!
A $30 value yours FREE

What Guys Are Saying About This Book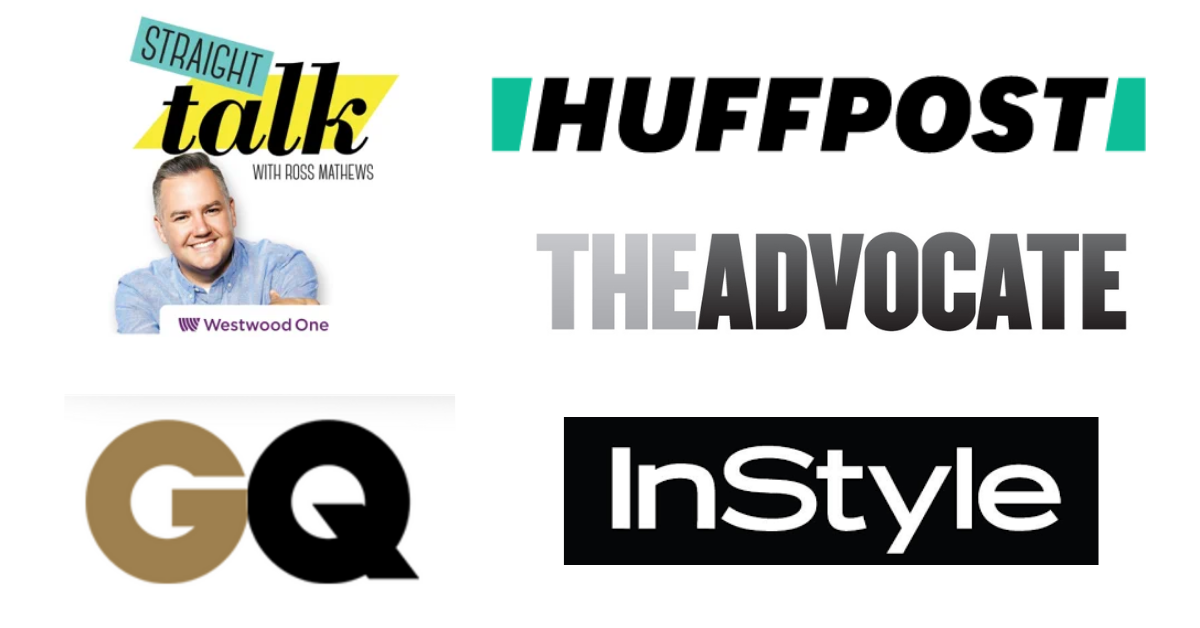 Also Available As:
*Includes individual jpegs of illustrations you can text or tweet to friends + 3 Bonus Books ($30 value)
LISTEN TO A SAMPLE OF THE AUDIO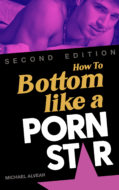 Book #1
This book will show you how to bottom without pain or stains–with STUNNING medical illustrations. There's a reason it's been the #1 selling gay sex book for the last five years. It's a step-by-step guide to bottoming–complete with a major section on how to get yourself spotlessly clean. Also gives you keen insight into the porn industry–how they do the deed and how you can too!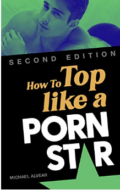 BOOK #2
Learn how to be the guy everybody wants to get under! From discovering your inner top to learning how to completely relax your partner's sphincter for a pain-free experience, this is the only gay sex guide strictly devoted to tops! With 24 eye-popping medical illustrations! It answers all the gay sex questions from a top's perspective. Find out the which thrusting patterns and techniques will double your pleasure. And his.

BOOK #3
Nothing turns a guy on more than another guy who loves to give head! Learn specific techniques like the "Selfish Blowjob" that prioritizes your pleasure even as you're delivering it.

Start Reading Them Instantly!
Download as PDFs To All Devices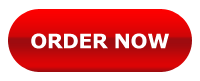 Save $10! Start reading now. Instantly downloads to any computer, smartphone, or laptop.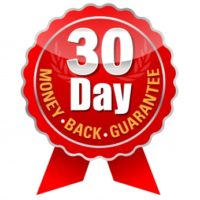 If you're dissatisfied for any reason we'll cheerfully refund your money, no questions asked!
INCLUDES THESE BEST SELLERS!
A $30 value yours FREE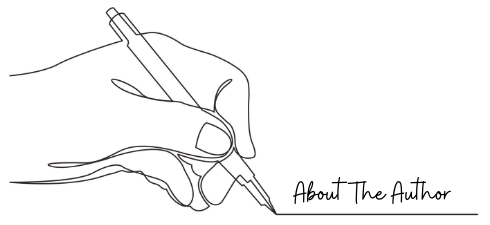 Michael Alvear has been writing about gay sex for over twenty years.
He starred in The Sex Inspectors, an international hit TV show that aired in 12 countries, including HBO in the U.S. and Channel 4 in the UK.
He's also written for The New York Times, WebMD, and provided thought-provoking commentary on NPR's All Things Considered.