GAY BODY LANGUAGE
Are You Subconsciously Sending "Go Away" Signals To Cute Guys?
What you do with your arms, the way you use your hands and the way you gesture or look at somebody can mean the difference between making yourself approachable or avoidable. It's the law of gay body language.
The approach has to be subtle, friendly and non-threatening. Here's something you may be doing that could be your undoing: Starting conversations by facing him squarely. Most guys will feel uncomfortable with that.
Maybe you've touched him in a way that signals friendship, not desire. Strategic touching is essential to building attraction but how do you do it without being a creep? Hint: It's not just where you touch him but how.

Listen to a sample of the book right from your browser!
Look In The Mirror. Your Body Language Is All Wrong
Can I tell you a story? Going out to bars and parties destroyed my self-esteem. I felt like a complete loser. How many times can you come home without meeting anybody before you feel like there's something wrong with you?
Seriously, have you ever come home from the bars more depressed than when you left? If you're like me, you've tried everything. Different bars, different people, different events. You changed your look, your clothes, your style.
The result? Nada, nothing, zip. You may as well go straight. Well one day, I met a gay body language expert. He told me something that would change my life:
Half the Guys You Like Are Turned Off By Your Body Language
You know what my reaction was? "Bullsh_t." I mean, come on! Body language? I'm not meeting good looking guys because of my body language? Puh-leeze. Stay with me because this is where it gets interesting.
The body language expert (a psychologist, actually) took me under his wing and coached me in the art of using body language to attract the kind of guys I liked.
He wanted a guinea pig–ME–to prove that the sexual body language principles that work for straight couples could, with some adaptation, work for gay men. Yes, body language for gay men.
The result? In less than an hour, two good-looking guys struck up a conversation with me Here's a partial list of what he changed:
* The way I shook hands.
* The way I leaned in (or away).
* How I pointed with my feet (yes, feet, long story).
* The angle that I talked to people.
* The direction that I approached guys I wanted to meet.
* The way I looked at guys I was interested in.
* The way I used my body to catch their eye.
* The way I used my hands to gesture.
The Result? Changing My Body Language Attracted Better Looking Gay Guys!
I ended up writing a book about it. Look:
It's a PDF! Start Reading In 60 Seconds
Downloads To Phone, PC or Tablet
1. MAKE YOURSELF MORE APPROACHABLE
2. GET GUYS TO COME TO YOU
3. GET MORE DATES. HAVE MORE SEX

This book normally sells for $19.99.
I TRUST YOU.
(with a small minimum).
30 Day Money Back Guarantee.
Instantly downloads to your pc, mac, tablet or mobile device.
WATCH THIS!

What angle should your partner's penis enter you? Straight in? Pointing up? Down? Dyed, fried and laid to the side?
There is one—and only one— angle the penis should go in and it doesn't matter what position you're in. Watch our entertaining video for the answer:
Gay Body Language Advice
MAKE YOURSELF MORE APPROACHABLE BY…
1. Wearing a certain types of shirts and pants. Research shows men are far more attracted to clothes that… Well, it's on Page 23.
2. You should also wear a certain type of jewelry and accessories. I'll give away one of the secrets right now: Shoes! Find out why on Page 25.
3. Open your "Territory Line." I show you how to do it on Page 26.
4. Create "Invisible Hallways" between the two of you by using your hands and arms while you're talking to friends.
5. Point with your hands, your feet and your head. This is a little known secret among communication researchers. Pointing is an "invitation" (it also reveals how he feels about you). Where should you point and how? It's all on Page 28.
6. Use Inviting Postures. Whether you're standing, sitting (even slouching), there are do's and don'ts to show your interest. They're all on Page 29.
7. Make it easy for him to touch you. See Page 30 for inventive things you can wear or do to make touching you irresistible. They work like a charm!
The Price Also Includes FREE eReports Worth $30!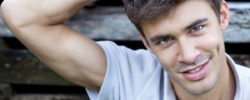 QuickGuide Reference to Sexual Body Language.
Interpret his gestures and postures with this at-a-glance answer guide you can keep in your pocket when you go out.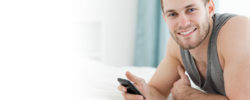 A Mind-Blowing Online Body Language Quiz.
Complete with pictures and diagrams, it'll make you an expert at reading body language.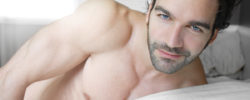 The Top 8 Body Language Videos On The Web
These are the only ones worth watching. I just saved you ten hours of research on Youtube
WATCH THIS!
Did you know the main reason bottoming can hurt so much is that you have TWO sets of sphincter muscles and you've only been relaxing one? Watch our entertaining video:
Hey! Who Wrote This Book?

On the set with Tyra Banks and Greg Behrendt.
I started my career by syndicating a sex and relationships column all over the country and I sort of became known as the "East Coast Dan Savage." I then went on to write my first gay sex book, Men Are Pigs But We Love Bacon (Kensington). Next thing I knew I was auditioning for a co-hosting role in a heterosexual sex makeover series called The Sex Inspectors.
With the screen test cameras rolling, I remember the production chief asking me what I thought of women faking their orgasms. "That's nothing," I sniffed. "Men fake whole relationships."
I got the job.
The show went on to be an international hit, airing in 12 countries, including the U.S. on HBO. It led to my biggest book yet, Sex Inspectors Master Class: How To Have An Amazing Sex Life (Penguin).
I love giving advice to people. I love to see barriers crack and humanity come to the surface. I hope I'm able to do that with Attract Hotter Guys and hope you enjoy reading it as much as I did writing it.

What Are Guys Just Like You Saying About This Gay Sex Guide?
"Simply the most informative, insightful "joy of gay sex" book I have ever read. Taught me more in one day about the ultimate in gay sex acts than I learned in the last 10 years. I especially liked the section on dealing with performance anxiety. Highly recommended."
David, 28
"This is the ultimate in gay sex education–written with knowledge, clearness and in a very funny but responsible and up to date way, including the latest in the psychology of domination and submission everyone should know. The author is right–you CAN lose your identity as a top or a bottom and free yourself to experiment sexually–just follow his plan!"
Eric, 32
"Loved the book! Should have been called the Joy Of Gay Sex–Top Edition! It was an easy but informative read. I learnt a lot. Newbies always ask, "Does gay sex hurt?" Not if you read the sphincter relaxation trick in this book. AMAZING. I especially appreciated all the pictures–they made the author's concepts so much easier to grasp."
Mike, 48

"As somebody who has tried and repeatedly failed at bars and parties I have to tell you how great and useful this book is. Sensational advice for making myself more approachable and attractive to the kind of guys I like. Next time you're in San Diego drinks are on me!"
Robert, 25
"Within a week of downloading Attract Hotter Guys, I went from zero to hero in the bars. I'm now having more sex with better-looking guys than I ever thought possible. The biggest help: Your "triangular gaze pattern." It works! This book is everything you say it is and more"
Caleb, 52
"Since I've put your tips to use, I've had several gorgeous guys approach *ME*. For the first time in my life I feel desired, wanted, yes, even ATTRACTIVE because all these good-looking chaps who never used to pay me attention are suddenly coming over and chatting me up. Thanks!"
Nick, 43
Try Our 3-Book Bundle–MASSIVE Savings!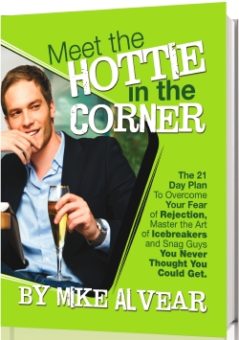 MEET
Have more sex, get more dates, or find a husband with this step-by-step manual that shows you how to approach, meet and attract beautiful gay men. From getting rid of fear of rejection to knowing exactly how to start a conversation, this is the ultimate gay dating blueprint. With glowing reviews from The Huffing Post ("A sensational way of meeting gay men!") no wonder it's the #1 best selling gay dating ebook in the U.S.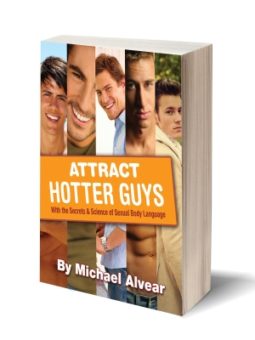 ATTRACT
The first and only body language guide for gay men. It's packed with inventive body language strategies proven to make you more appealing and approachable. Learn which gestures, postures and expressions attract gay men–all based on peer-reviewed studies done byleading psychologists in non-verbal communication. Are you sending go 'away signals'? Your approaches turning guys off? This guide will help you figure it out.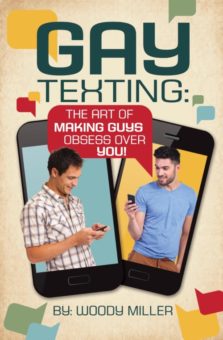 TEXT
Now that you've met the hottie it's time to text! Capture his imagination, stir his curiosity and build attraction with a blend of clever, thoughtful texts. It'll reveal your personality and make him think, "Wow, this guy is really special!" This guide will show you how–along with solutions to common problems like dealing with indecisive guys and turning his ambivalence into passion.

This bundle normally sells for $29.99.
I TRUST YOU. Pay What You Think Is Fair
30 Day Money Back Guarantee
Instantly downloads to your pc, mac, tablet or mobile device.
Do you really offer a 30 Day Money Back Guarantee?
Absolutely! We run about 1-3% return rate compared to 10% for the industry. Why? Because the books are that helpful. And funny. Don't forget funny. We love funny. If you're dissatisfied in ANY way for ANY reason, just email me at [email protected] dot net and I'll cheerfully refund your money, no questions asked.
Still not convinced? Check out PayPal's return policy. Ours is more generous than theirs!
Is The Server Secure? Will My Identity Be Protected?
Yes, and of course. We use one of the most respected shopping cart/financial processing firms out there (Get DPD and Stripe). There is absolutely nothing to be worried about. Also, we will not use your email address for anything other than sending you the link to the downloads.
How Does The Download Work?
My books come to you as PDF downloads—the industry standard for digital downloads. Once you complete the purchase you will receive two emails: 1) A receipt for your purchase—along with my email address in case you want your money back. 2) An email with a link to the download page. Make sure you check your junk. I mean your junk mail—sometimes our customers don't think to look there.
What next? Click on the download links and the books will be zapped right into your pc, mac, tablet or smartphone. You can generally start reading the books within 60 seconds of completing the purchase.
What Qualifies You As An Expert?
I've been a sex and relationships columnist for the last twelve years. As you can see in Wikipedia, I've also authored 8 books on the subject, including Sex Inspectors Master Class: How To Have An Amazing Sex Life (based on the TV series I co-hosted that aired in the UK on Channel 4 and on HBO). I also blog for the Huffington Post, have written for the New York Times and done multiple commentaries on NPR's All Things Considered. I've also been profiled in magazines like Marie Claire and Creative Loafing, and written for WebMD.