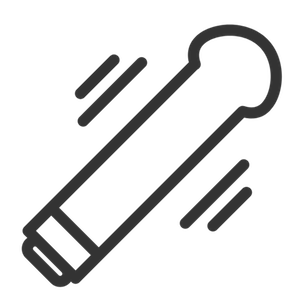 Top Ten Prostate Massagers
There are hundreds of different prostate massagers in the market today.
How in the world could we come up with the top ten best prostate massagers out of a pool like that?
It would take hundreds of people putting hundreds of products up their butts to determine a winner.
As much fun as that sounds, it's a really inefficient, ineffective way of deciding which prostate massagers you should buy.
How about something simpler? Like asking what professional critics and users think about the product?
Basically, that is how we determined our list. First, we looked up professional critic reviews published in sex blogs and sex toy review sites.  We read every single one of them and categorized them in five different ways: Very negative, negative, neutral, positive, very positive. 
Then we synthesized what each critic thought were the pros and cons of each product so that we could come up with a sort of "critics consensus."
Then we visited every online sex toy retailer to see if they published any reviews of prostate massagers via independent, third-party review sites like Google Reviews, Trustpilot, and other respected surveyors.
We did a lot of math– writing down the number of reviews, the average score, and the consensus of what was right or wrong about each product.
Then our in-house statistician developed a ranking system that took into account the mathematical challenges of averaging scores in a way that was fair and just.
The result?
The first data-driven ranking of prostate massagers.  Take a look. More details below the chart:
Top Ten Prostate Massagers
#
Prostate
Massager
Moan-O-Meter  Score

1

>

Njoy Pure Plug 2.0

Level: Beginner
Vibrates: no
Made of: Stainless Steel
Price: About $100

Critics Consensus

Known as the "Rolls Royce of plugs," this absolutely gorgeous, stainless steel, hand-polished prostate massager is frequently described as a sight for sore eyes and a site for pure pleasure.

2

>

LELO Billy

Level: Beginner

Vibrates: Yes

Made of: Silicon

Price: About $100

Critics Consensus

With a perfect curvature for the prostate, 35 vibration intensities delivering different types of orgasmic feelings, this "whisper-quiet" vibrator with a thinner girth for rookies is THE pick for beginners who want a prostate massager that vibrates.


3

>

Lelo Hugo

Level: Advanced
Vibrates: Yes
Made of: Silicone
Price: About $215

Critics Consensus

The sleek, u-shaped design, the bulbed insertable end and two separate motors that simultaneously massage the prostate and perineum make this massager the advanced favorite among critics and users. 

4

>

Fun Factory Bootie

Level: Beginner
Vibrates: No
Made of: Silicone
Price: About $36

Critics Consensus

Praised for its brilliant design, portability, soothing texture, and ease of insertion, the Fun Factory Bootie is the highest rated prostate massager for beginner. With a low price point for body-safe silicone, it's an unbeatable option for those new to prostate play.

5

>

Aneros Helix Syn

Level: Beginner
Vibrates: No
Made of: Silicone
Price: About $72

Critics Consensus

Critics and reviewers alike loved the Aneros Eupho Syn for its ergonomic, lightweight design, surprisingly comfortable insertion, and the intense, hands-free orgasms it produces.

6

>

Loki Wave

Level: Intermediate-Advanced
Vibrates: Yes
Made of: Silicone
Price: About $230

Critics Consensus

Hailed by critics and users alike for its dual vibrators (one for the prostate, the other for the perineum), this high-end massager sports an unusual feature in the form of a 'finger' that isn't shy about asking you to 'come hither.' Comes with ten different vibrational settings.

7

>

Aneros Progasm

Level: Intermediate-Advanced
Vibrates: No
Made of: Plastic
Price: About $60

Critics Consensus

Users and critics alike hail the Progasm's ability to deliver simultaneous stimulation to the prostate, perineum and an acupressure point beneath the tailbone, despite the learning curve and some disappointment in the specially designed "tabs."

8

>

Njoy Pfun Plug

Level: Intermediate-Advanced
Vibrates: No
Made of: Steel
Price: About $95

Critics Consensus

The shiny, sleek stainless steel construction of the Njoy Pfun Plug gives the versatility of temperature play, while the perfect curve of the stem, slim base and a tapered, bulbous head guarantees the prostate stimulation you are looking for.

9

>

Rocks Off Naughty Boy

Level: Beginner
Vibrates: Yes
Made of: Silicone
Price: About $65

Critics Consensus

Praised for being "beginner friendly" by users and critics, Naughty boy is perfect for first time users and people who prefer the slim versions of prostate massagers. It has an easy grip design, rounded head for easy insertion, and a curved design to hit the P-Spot.

10

>

Aneros Eupho Syn

Level: Beginner
Vibrates: No
Made of: Plastic
Price: About $72

Critics Consensus

Critics and reviewers alike loved the Aneros Eupho Syn for its ergonomic, lightweight design, surprisingly comfortable insertion, and the intense, hands-free orgasms it produces.
The best part of this chart is that you are not getting our opinion of the best massagers. You are getting the wisdom of the crowds. 
Why listen to any one sex toy reviewer when you can look at our rankings and see that the market itself has spoken?
Now for example, instead of listening to one or two sex toy reviewers, you can listen to 250 different reviews scattered across 45 different retailers where people posted their thoughts.
We are proud of this breakthrough in assessing which sex toy is best for you.
It means that you don't have to rely on somebody's personal case to determine what is best for you.  
It means that you can minimize the risk of buying a dud.
It means you can maximize your chances of getting a product that will give you a worthy o-face.
And because we also linked these rankings to the cheapest stores where you can buy the products, we can also give your wallet a 0-face. Not many sites can offer that–a billfold orgasm 🙂
Something Better Than The Top 10 Prostate Massagers Ranking
You can't go wrong with a top 10 list like this but you can go even better with one of our free services– the industry's first prostate massager quiz:

This quiz asks you four simple questions and then determines the best prostate massager depending on how you answer.
Our quiz is actually the very best way of finding the prostate massager that will most likely meet your needs.
This is because the questions are framed in the context of the positives and negatives of each answer that you could provide.
For example, when we ask you what kind of material you want the prostate massager to be– silicone, glass, steel, etc. We also tell you what the pros and cons are of each material so that you can provide an educated answer.
The quiz also asks whether you are a beginner, intermediate or advanced player.
This is important because for example, as a beginner you don't want to end up ordering a fence post with a kick-start. It will not be fun for you.
In a case like this, the algorithm in the quiz will recognize that you are a beginner and only look for the highest-ranking massager for beginners, along with the other preferences that you have.
For example, your budget. Do you want to spend a little, a lot, or something in between?
This is critical because it's probably one of the driving forces of your decision. If you only have $50 to spend on a sex toy this quiz will recognize that and not suggest massagers outside of your price range–only delivering the highest-rated massager within your budget.
The other thing this quiz will ask you is whether you prefer the massager to vibrate or not vibrate. This is also important especially if you are a beginner. Rarely do beginners want something that vibrates because the whole concept of sticking an object up your bum seems like a tough proposition in the first place. Having that object contain a battery that's going to move the product around your insides seems implausible to those new to anal play.
Hence, the algorithm in our quiz will not suggest a vibrating massager if that's not what you prefer.
Give our quiz a go and see if it doesn't hit your P-spot!
More Details About Our Top 10 Prostate Massagers
The first thing you should know is that we only rank prostate massagers that are made by manufacturers with a strong reputation for exclusively using body-safe materials. In some cases, you may be surprised that some prostate massagers, really popular ones, are not included in any of our lists. That is because we could not confirm whether they were using body-safe materials.
In a lot of ways, this made our job much more difficult. It would be a lot easier for us to just rate all the popular massagers. But that would force us to violate a deeply held ethical belief:  we should not be promoting sex toys that are harmful to your health. 
The problem with figuring out which product is made out of safe materials is that because the industry is so unregulated, manufacturers and retailers can say anything they want and get away with it. So looking at a label that says this product was made with safe materials means nothing.
Here's how we approached the problem:  we relied on reputable sex toy reviewers who have literally tested many of the most popular sex toys. They would either conduct the tests themselves or send them out to labs.
It was truly sad to see that many of the popular sex toys were made with unsafe materials even though their labels said otherwise.
The really legitimate and super great sex toy reviewers will tell you which manufacturers passed their test and which manufacturers have sworn off unsafe materials.
That is how we came up with our list of about a hundred prostate massagers to rank. The first cut was the most important– the prostate massager must be made by a manufacturer with a reputation of using safe materials.
Your booty deserves no less.
What We Found Out From Making Our Top 10 Lists  Of Best Prostate Massagers
We were rather surprised at the patterns that emerged once we started making top 10 lists. FYI, we have top 10 list for every kind of massager– from the top 10 prostate massagers that you see here to more granular lists like the "top 10 non-vibrating prostate massagers made out of silicone."
Here is what fascinated us: there are a lot more advanced massagers then massagers for beginners. This could be because while it is harder to get the uninitiated to try sticking product up their asses 🙂 once men do it they never go back. Meaning, that there is a lot more demand for intermediate to advanced products than for beginners. This is just a theory.
The second thing that surprised us, is the whole question of cost. This is a tricky one because it's very difficult to pinpoint what is cheap versus what is expensive.
 It would be so much easier to simply say that anything between $20 – $40 is at budget level, anything between $41 and $80 is a standard cost and anything above that is a premium cost.
While we roughly stayed within those guidelines the truth is they don't work all that well in a lot of situations.
For example, if you want a stainless steel prostate massager the cheapest one that you will find (that is made of body-safe materials)  is around $70. Most people on a budget would think that $70 is really expensive for a prostate massager. But is it?
It's only expensive against a $20 glass prostate massager. But those massagers are made out of a different kind of material, a material that is way easier and more inexpensive to produce.
This asymmetrical cost categorization also applies to massagers that vibrate.
It would be difficult to find a body-safe vibrating massager that can adequately do the job for much under $100.
$100! For somebody on a budget? That is a quandary we acknowledge.
We are agnostic as to how much money you should spend on a prostate massager. The only thing we believe is that you should spend what you can, not what you should.
That is why we have a wide spectrum of prices in our rankings. If we have one piece of advice about how much to spend it's to start small and work your way up.
As a beginner, you should approach prostate massagers with a "proof-of-concept" attitude. Meaning, before you shell out big bucks you need to know that it's going to be worth it.
That means if you start with something like the Fun Factory Bootie, which only cost $36 ( unheard of for body safe silicone)  you can test drive this whole concept of a prostate massage and see if it's pleasurable for you.
If it is, then that should give you permission to spend a lot more money for something that will deliver a lot more pleasure.
Buy The Top 10 Prostate Massagers At The Top 10 Online Stores
In our zeal for providing data-driven information for you to make the best purchasing decisions, we didn't just stop at product.  We also rated the stores that sell the product.
This was a massive undertaking as there are over 200 online sex toy retailers. Now, how in the world do you even begin to rate a website that sells sex toys?
By understanding something that the vast majority of people know nothing about:   that Google has something they call the Google Seller Rating.
In order to qualify for the Google Seller Rating, which gives the online sex toy retailer a major competitive advantage, the retailer must place a Google-approved code in its site, which prompts people to leave their opinion of the experience they had with the retailer.
Sometimes that code is made by a Google-approved third-party surveyor like Trustpilot and sometimes it is Google itself.
Once the code is installed it automatically asks people what they think of the store after they've made a purchase.
If the store can achieve a 3.5 average rating based on at least 100 unique reviews then it achieves the coveted Google Seller Rating.
This is what we looked at in terms of ranking sex toy online retailers.
If the retailer has a Google seller rating it means that they've passed the quality sniff test that Google employs.   Now, why would Google want to do that?
Imagine this:  you Google "top 10 prostate massagers"  and Google serves up a really crappy online retailer on page one. You click it, you buy the product, and the service sucks. They overcharged you. They sent it three weeks late, etc. If that happens frequently enough you will start blaming Google and its search results for showcasing terrible retailers. It wouldn't be long before you would start using Bing or Yahoo.
Hence, that is why Google established Google Seller Rating. Now, most people don't know about it but we do and that is why we're giving you an extra level of protection by ranking the top retailers, the retailers that Google has faith in.  
So with that preamble here is the list of the top 10 retailers you should buy sex toys from:
| Rank | Store | Best Sellers Page | Hot Deals Page | Free Shipping on orders of | Support | Return Guarantee | Free Return Postage? |
| --- | --- | --- | --- | --- | --- | --- | --- |
| 1 | Adam & Eve | Best Sellers | Hot Deals | $59+ | Phone, email, chat | 90 days | Not specified |
| 2 | Babeland | Best Sellers | Hot Deals | $69+ | Phone, email, chat | 30 days if defective | Not specified |
| 3 | Too Timid | Best Sellers | Hot Deals | $65+ | Phone, email, support form | 30 days | No |
| 4 | Edenfantasys | Best Sellers | Hot Deals | $50+ | Phone | 30 days if defective | Not specified |
| 5 | Liberator | Best Sellers | Hot Deals | $75+ | Phone, email | Yes if approved | No |
| 6 | Stockroom | Best Sellers | Hot Deals | $99+ | Phone, email | 30 days if defective | Yes |
| 7 | Ella Paradis | Best Sellers | Hot Deals | $49+ | Phone, email | 30 days if defective | Not specified |
| 8 | Vibrators.com | Best Sellers | Hot Deals | NA | Phone, email | 30 days if defective | Not specified |
| 9 | Early 2 Bed Shop | Best Sellers | Hot Deals | $125+ | Phone, email | 60 days if defective | Not specified |
| 10 | Hustler Hollywood | Best Sellers | Hot Deals | $0+ | Contact form | 30 days | Yes |
Tips On Using Any Of Our Top Ten Prostate Massagers
There is no point in buying any of our top 10 prostate massagers if your sphincter is so tight you can't use any of them
That's why it's important that you understand certain relaxation techniques. The single best way to relax your sphincter is to first tighten it.
What?
You heard right. Here's the concept:  what gets tightened consciously gets loosened unconsciously.
Do this:  tighten your sphincter wherever you are right now. Hold it for about 30 to 60 seconds. Ready? Set. Go.
Notice what's happening in the first 20 seconds. You are probably holding tightly with no problem.
But let another 10 or 20 seconds ago and you'll realize you're struggling.
Around the 60 second mark, you'll notice that you are unable to hold the tension and your sphincter is relaxing on its own.
Muscle fatigue is your friend when it comes to relaxing your sphincter. So instead of doing all kinds of breathing and other relaxation exercises that rarely work you can use science instead.
The science is simple:  you cannot hold muscle tension Forever. At some point muscle fatigue set in and relaxation is a consequence of it.
How does this affect the insertion of a prostate massager?
It means that the best way of inserting it is to tighten your sphincter for about 60 seconds and at the point your sphincter muscle gets fatigued and relaxes is when you insert one of our top 10 prostate massagers.
Insert it slowly.
Did we say slowly? Because we meant SLOWLY.
Another valuable piece of advice is to understand that your anus creates a vacuum when you insert something in it. Why do you think there are so many ER visits from people who stick things like cucumbers and other objects up their bum? At some point, the anus sucks the object in, and oh dear, there goes your afternoon.
That is why you must always make sure that the object you are inserting has a flange that prevents the toy from being sucked up the anal cavity. You can use this vacuum phenomenon in your anus to great benefit. Namely, you do not have to insert so much as put the prostate massager firmly but gently at the surface of your sphincter and when your muscle gets fatigued from holding it shut tight it will envelop the massager and pull it up on its own.
How cool is that?
In other words, don't insert, let the massager be pulled in.
That's a hell of a lot better way than to force a massager up your ass. You will save yourself a whole lot of tears and pain.
Let's review. Muscle fatigue is your friend. Use it to create a natural unconscious relaxation of the sphincters. When that relaxation happens around the 60-second mark you let the anus pull the prostate massager inside.
Basically, you are not forcing the massager in, you are releasing it inside.
Now go, insert, and have the time of your life.