Gay Dating Tips & Advice
How To Meet Gay Men IRL
You've been on all the online dating sites–GrindR, Tinder, Jack'd, GrowlR.  Even the straightish sites like Tinder, Bumble and Zoosk. The result?
You meet flakes, freaks and flyovers.
A great deal of us gays spend an awful lot of time trying to meet online to no avail.  For many, the juice ain't worth the squeeze.  That's why we're going to talk about meeting IRL in this article.
Let's say you're at a restaurant, bar, party or social event filled with members of the mafia alphabet (lgbtq). What stops you from meeting other gay singles?
Let's say you spot a hottie.

You're likely to get paralyzed with "approach anxiety" and can't get yourself to go over to another guy you're interested in and start a conversation. And even if Mr. Right (or Mr. Right Now) starts one, you get tongue-tied, quiet, and introspective. He takes that as a sign of disinterest and moves on.
Fear of rejection lowers your confidence which lowers your competence. Stuck in a low-confidence, low-competence trap, it's hard to muster up the courage to start a convo with a hottie. Then you end up using a cheesy pick-up line which brings on the rejection you feared.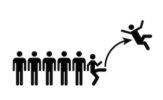 Your conversations become an interview with boring questions like—"How are you? What's your name? Where do you work?" These are instant rapport crushers that make conversations awkward and veer you straight to the dreaded Friend Zone.
Is This You?
You're on a manhunt. You walk into a gay bar or a party and you see Mr. I'd Sell My Mother's Soul For A Night With Him. He's beautiful. He renders you incapable of thought. Where's a matchmaker when you need one!
Wait. Did he just look? Hard to say. So your mind goes into monkey chatter overdrive and here's how it goes down:
You keep trying to catch his eye, and for the most part he's not responding. Still, there's a flicker. You want to meet him but you remembered the last time you tried starting a conversation with a cute guy. He literally walked away from you as you were talking. You're paralyzed with fear of rejection. You start running scenarios in your head. What should you say? What should you do?

Three martinis later you get the courage to go over to him. But you don't know what to say so you stick with the tried and true, "Hi, I'm so and so. What's your name?
Awwwwwwwkward. You just sent the conversation into a dead end. So you say the kind of thing you HATE when guys try to hit on you…. "having a nice time? So what's a guy like you doing in a place like this?" Oh, oh. Now you're running out of things to say. He's got his hands in his pockets—is that a bad sign?
"Yeah, nice meeting you too."
Damn, you should have stayed home and stuck to the gay dating sites.

Take heart. You're not alone. It's tough out there. If you're like most guys you're sick and tired of going out to the bars and never meeting the kind of mate you're interested in.  You get fed up with feeling invisible in gay bars and parties. You just can't believe that another whole weekend went by and all you got out of it was a bar bill.  It's easy to start thinking there's something wrong with you.
At one point in my life going out to parties, social events and bars destroyed my self-esteem.   I felt like a complete loser. I mean, how many times can you come home without meeting anybody before you feel like there's something wrong with you?  I know I haven't met you, but I want to make an assertion:
How To Get More Dates, More Sex and More Relationships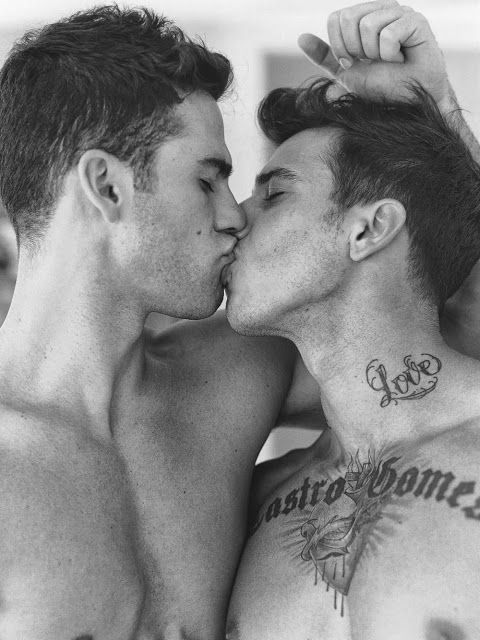 What if you developed rock star confidence? You would be able to walk into a room and get noticed right away.
You wouldn't be afraid of rejection. You'd be able to start conversations with anyone anywhere at any time.
And those conversations would capture the imagination, stir curiosity and set the stage for a real connection.
You wouldn't need to meet singles online. You wouldn't need to pay for popular dating sites. You'd be able to meet single men,  start conversations them–even if they didn't look interested –and charm them into wanting you.
You'd know how to disarm guys who think you may be hitting on them so they'll relax enough to have a conversation (and give you a chance to see you as a potential partner).
You'd know how to prevent 'conversation stalling" and awkward silences. You'd be able to meet someone whenever you wanted.
Get A Better Love Life
I'm going to end your lonely weekends once and for all. I'm going to show you how to meet gay men easily, without fear of rejection. These techniques work no matter what you look like or how old you are.
It doesn't matter if you identify as gay, bisexual, transgender, queer or Fill In The Label.
It also doesn't matter how much money you make or what nationality you might be. After hosting HBO's The Sex Inspectors, writing a gay dating advice column in a massively popular online dating site, and publishing several books on how to meet, attract and date beautiful gay men, I can say this with authority:
I'm Going To Have You Meet 
At Least One New Attractive Gay Guy Every Week
Here's how I'm going to do it: I'm going to get rid of your fear of rejection. I'm going to give you rock-star confidence at gay bars and parties. I'm going to tell you what to say so you'll never be at a loss for words when you're standing next to a beautiful guy.
 Let's face it, you're in a low-confidence, low-competence trap. Not knowing what to say or do lowers your confidence and the lack of confidence stops you from trying.
But what if you did know how to approach the guys you're interested in? What if you knew what to say? And what to do? You'd be able to date the kind of guys you always wanted.
I want to show you how to conquer your fear of rejection and learn powerful conversational techniques that make you irresistible to attractive guys (whether they share your sexual orientation or not!).
It's a complete program that'll help you acquire a completely different mindset and give you a powerful set of conversational skills that predispose guys to like you.
Introducing The Guide To Gay Dating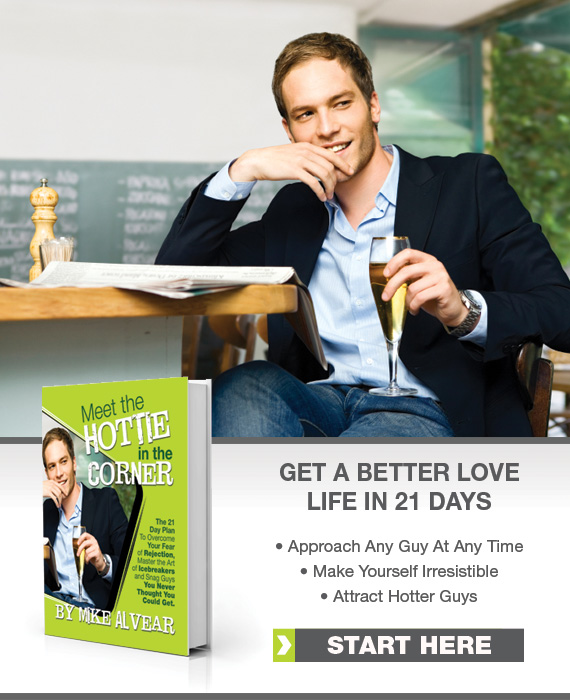 The first step: Get rid of your fear of rejection. You do that first by changing your perception of the same sex guys you're attracted to. See right now, you see them as goals and approach them with a do or die mentality.
You either hit a home run or you strike out. In the most humiliating way possible. The result? Paralyzing fear. The kind that stops you from ever taking a chance.
But it doesn't have to be that way. In my instant download ebook I show you a profound way to get around your date-killing fear of rejection.
It's actually a visual that you hold in your mind's eye. The Huffington Post called it, "An unbelievable powerful mind-shift you can achieve in minutes. The very best in gay dating advice." Once you've got that handled, then it's time to…
Grow Unstoppable Confidence
Here's the thing. You can't buy confidence. You have to earn it. Instead of pep talks and visualizations, my instant download guide gives you exercises to build competence with irresistible social skills. Here's the formula: Competence = Confidence. Not the other way around.
So, let's talk about this competence thing. The only way to get comfortable talking with good-looking strangers is to get comfortable talking to all strangers. Do the exercises on P. 23-55 of my eBook. They'll teach you how to:
• Think outside of yourself
• Talk from a place of sincerity
• Know interesting facts about the human condition
• Understand the underlying humanity behind conversations
• Connect in meaningful ways
• Create rapport
• Make people feel better about themselves
• Add value to people's lives
• Become a better person.
Take A Look At My 9 Step Method:
Step 1: CONQUER YOUR FEAR OF REJECTION Learn my secret for eliminating approach anxiety so you can talk to ANYBODY anywhere without sounding needy or insecure. I will give you a simple exercise you can use to DESTROY your fear of approaching good-looking gay guys immediately. It's a combination of adding rational empowerment to your inner dialogue, a game-changing visualization and a stop-you-in-your-tracks mind-shift. And it works whether you're in a gay bar or anyplace else.
Step 2: GET ROCK STAR CONFIDENCE Use my strategies and you'll be able to walk into a room and get noticed right away. You'll learn the "3 second rule" and how to use it to COMPLETELY remove any anxiety you have about approaching gorgeous guys. I show you this piece of stellar gay advice on P. 26-30.
Step 3: GET GUYS TO PURSUE YOU. You can do this even if you're not tall, rich or handsome. By using the concept of "Demonstrating Value," you can literally get the hottest guy in the room to pursue YOU. All you have to do is understand a few fundamentals about human nature and apply them. It's fun, easy to learn, and it WORKS. P. 41-54.
Step 4: SAY SOMETHING CLEVER What can you say to somebody that won't sound like a cheesy pick up line or an awkward, try-hard attempt to sound cool? Learn the 7 biggest mistakes most gay guys make when trying to start a conversation (and how to avoid them). Try my long list of irresistible, no-rejection openers.  They'll capture the imagination, stir curiosity and set the stage for a real connection. Use them TONIGHT. They're all on P. 55-75.
Step 5: CREATE A POWERFUL FIRST IMPRESSION Learn how to give a guy that same feeling of "I have to have him" that he gets when he sees a guy who is rich, famous, or good looking… without being any of those things yourself. There are 5 things you can do in the crucial first 10 minutes with a man that instantly lets him know you're "in his league." How to do it? It'll all on P. 31-36.
Step 6: MAKE YOURSELF MORE APPEALING Learn how to start a conversation with a good-looking guy who doesn't look interested. I'll show you the best way to disarm guys who think you may be hitting on them so they'll relax enough to have a conversation (and give you a chance to charm them). It's all on P. 37-40.
Step 7: BUILD ATTRACTION Discover the most powerful approaches to getting him interested in you. They're GUARANTEED to make him look at you and think, "Tonight just got more interesting." They're fun to do, they put a smile on his face and best of all, they've been field tested in gay bars, parties and social events. These gay tips are all on P. 76-82.
Step 8: KEEP IT EXCITING. I'll show you how to prevent 'conversation stalling" and awkward silences by using something called "Multiple Threads." By talking in a way that creates mild suspense, you'll create energy, rapport and the feeling that you have a lot to talk about. You'll never run out of things to say again! P. 83-84.
Step 9: CREATE SEXUAL TENSION Strategic touching builds comfort and creates desire. Start out with indirect touching and escalate slowly with these time-tested tactics. Find out how to position yourself for no-threat touches, where to touch and how to use the "Prize Theory" to get him to touch YOU. Pretty soon you'll need to read my gay sex advice series! All on P. 85-90.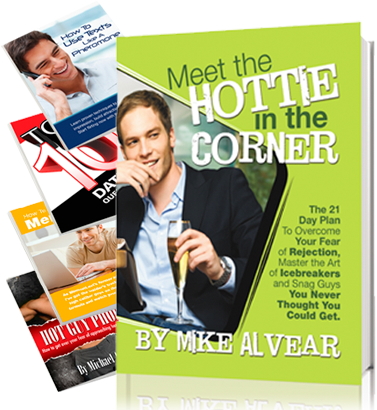 Start Meeting Hotter Guys TONIGHT!
Get The Best In Gay Dating Advice
• Conquer Fear Of Rejection.
• Get Rock Star Confidence.
• Know What To Say & How to Say It.
Meet The Hottie Comes With FREE eReports Worth $30!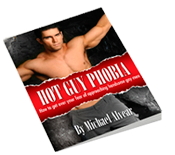 Bonus #1: Hot Guy Phobia, Or Conquering "Approach Anxiety."
Get rid of your fear of starting a conversation with gorgeous guys once and for all. These proven step-by-step techniques are guaranteed to give you rock star confidence!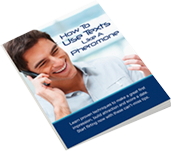 Bonus #2: How To Use Texts To Build Attraction
.
You'll never send another boring text again with this guide on meeting new people, building attraction through flirt texts. Start flirting now with these can't-miss tips.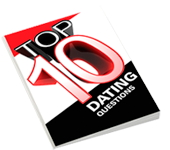 Bonus #3: A Sneak Peak at the Top 10 Dating Questions From My Upcoming Book.

If you're a man seeking a man, you have questions like, "Why do I lose interest the minute he starts falling for me?" Funny, wise and useful, they'll help you get past your relationship sticking points.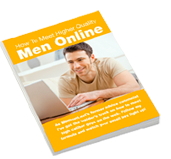 Bonus #4: How To Meet Higher Quality Men Online.
As a consultant to several gay dating apps, I've got the insider's track on how to meet high caliber guys on the web–for a fling, a date or a long-term relationship. I've seen all their research and I share them with you in this report. If you're looking for a gay date online, this one's a must!

With A 30 Day Money Back Guarantee It's Like A Free Trial
Take "Meet The Hottie" for a 30 day test drive. Download the eBook, read it from cover to cover, and put my little known secrets to the test. If anytime within 30 days you aren't satisfied with the product, simply send me an email at info at mikealvear .com. I'll cheerfully refund your money in full. No questions asked. What's more, you can keep the three bonuses valued at $40 as my way of saying "thank you" for giving the product a fair try.
Here's the fine print:
Exactly. There is none. Buy it. If you don't like it, don't pay for it. It's that simple.
Invest In Your Love Life
You're worth it. Aren't you tired of going out to gay bars, parties or social events and coming back empty handed? Aren't you tired of going out and never getting the phone numbers of guys you want to date? Don't let another weekend go by without learning the skills to meet guys that turn you on. Think about it: What would your love life be like if you had the confidence to approach anyone anywhere at anytime?  How much more sex would you have? How many more dates? How many more relationships?

Read More About This Astounding Gay Dating Advice Guide.
Pssst!
Want to take a sneak peek at some of the chapters in my book? Just click the tabs on the left and you'll see excerpts from each chapter so you can get a sense of the content and style. I like to bootleg a lot of facts and insights into funny narratives. My goal is to teach you something while making you laugh. And if I fail, well, that's what the 30 day money back guarantee is for!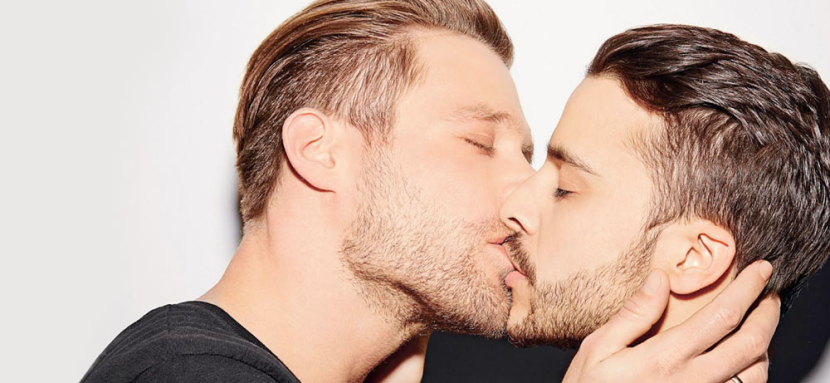 Get A Better Love Life For The Price Of A Few Drinks!
Click Here To Get Started. $19.99 with a 30 Day Money Back Guarantee.
Look!
Excerpts From Every Chapter!
1. Gay Dating Advice
In this chapter we'll look at how your fears get triggered by a fundamental error in the way you perceive attractive guys. Change the perception; banish the fear.
Then, I'll introduce you to a profound new way of looking at guys you're interested in. It will stop you in your tracks. And then we'll be able to take apart the Three Big Gay Lies that keep you from taking a chance.
The Root Of Your Fears
What stops you from meeting a good-looking guy? Your fears in order of intensity:
A. Rejection & Ridicule
Even if your guy rejects you nicely, a no is a NO. The thought of him looking for something better as you're talking or excusing himself from the conversation is too much to bear. What if he walks away as you're talking? What if everybody sees it? These are real possibilities, after all. You might be ignored. Worse, MOCKED. The potential for a negative emotional outcome is high, especially if you don't know what to say or how to act.
B. Loss.
You might ruin everything by being too try-hard. What if he is interested but you ruin it by coming off as a bumbling loser or a crass jerk? Better to wait. The thought of making a wrong move triggers a fear of catastrophic loss.
C. Self-esteem
Better to leave with your self-esteem intact than to take the chance that he'll crush it under his heel. That's when you start making excuses like, "he's probably got a boyfriend," "I'm not his type anyway," "He's probably a jerk." Anything to justify your inaction.
There's a simple way of getting rid of these fears, but before I tell you what it is, you need to see how much power you've given the guy you're interested in. Let's call this guy "Pure Shagability." Or Shagability, for short.
You know, for a complete stranger, Shagability sure has a lot of power over you. He welds your feet to the floor, puts duct tape over your mouth, and fills your brain with popping kernels of negativity.
You know why he has that power? Because you believe he is something he's not. To overcome your fear of rejection, you must…
Redefine The Way You See Attractive Guys.
Right now, you think of Shagability as a goal. And because he's a goal, taking the chance of approaching him has only two possible outcomes: Leave with him in your arms or your tail between your legs.
The thing about goals is that you either achieve them or you don't. You win or lose, it's black and white, sink or swim. Actually, it's worse. When your goal is love, sex or both, it feels more like Live or Die. You either get validated by a beautiful guy or die of embarrassment. That's a pretty high price for what amounts to saying hello. Meet your goal or die? No wonder you're as nervous as a fly in a frog factory.
So what's the secret to overcoming your fear of rejection? It's coming to a profound realization about Shagability:
2. What Comes Before a Gay Date? CONFIDENCE.
Here's a gay dating tip: Confidence is the result of accomplishment. By setting up the right goals, detaching from the outcome and enhancing your social skills, you will produce the fuel that powers confidence.
So let's get you some.
Competence Builds Confidence. Not The Other Way Around.
You're not going to get a pep talk from me. Motivation is like masturbation–it feels good for about a minute, and then you're right back where you started.
Forget build-it-and-he-will-come visualizations. They don't work either. You can't buy confidence; you have to earn it. It comes down to this:
Competence builds Confidence.
The doing comes before the feeling. It's worth repeating: Competence builds confidence. Not the other way around. Competence creates confidence which increases competence. It's a built-in feedback loop.
So here's what we're going to do:
Develop irresistible social skills.
Approaching, talking and connecting with attractive guys is a skill you can learn. And with the right coaching and content, you can systematically produce results in 21-days. Yes, some people have a factory-installed charm engine, but the after-market installation is just as effective. Here are the skills you're going to learn:
• How to think outside of yourself
• How to consider other people's reality
• Talk from a place of sincerity
• Know interesting facts about the human condition
• Communicate these facts in a captivating way
• How to be spontaneous
• Understand the underlying humanity behind conversations
• How to connect in meaningful ways
• Create rapport
• Make people feel better about themselves
• Add value to people's lives
• Become a better person.
Your Goals Are Killing You. Get New Ones.
Here's another bit of gay dating advice: Approach anxiety gets triggered by unreasonable goals. Telling yourself you need to go to the other side of the bar and pick up Shagability is about the most unreasonable goal you can come up with. If I were to tell you to go from where you are (Low Confidence/Low Competence) to where you want to be (High Confidence/High Competence) in a single step, you'd freak out. Do you really expect to get to the top of Mt. Shagability without so much as setting up base camp?
That's why we've got to set reasonable goals. "Meet a quality guy," "Sleep with a hot man" or "get a husband" may be things you want, but they don't qualify as reasonable goals. You can't get there from here. You'd get better results–and faster ones–if you had goals that weren't tied to results. From now on, this is your main objective:
3. Gay Dating Tips
The only way to get comfortable talking with good-looking strangers is to get comfortable talking to ALL strangers. Getting experience in low stake situations prepares you for the high stakes prize. Ultimately, there is no stylistic difference between talking to somebody you're interested in and talking to somebody you're not.
Except the rewards.
Day 1 Assignment
Say Hello to Strangers
Everyone, everywhere, all of the time. Whether they look at you or not. Whether you think they'll say hello back or not. Oh, and you have to be the first one to say it.
You walk into an elevator. Hello. Someone passes you in the hall. How are you. You're standing in line at a movie. Hey. You're at the gas station. Hi. In line at the coffee shop. What's up. Talk to a new person EVERY DAY. Your target is everyone: The waiter, the Starbucks guy. Hello, hello, hello!
Goal #1: Get so used to saying hello to strangers that it becomes second nature.
Goal #2: Detach from the outcome. It doesn't matter whether they say hello or smile back. The assignment isn't to provoke a positive reaction, it's to play. Success isn't in their reaction; it's in your attempt. Did they frown or stay silent because they didn't like you or because they've got indigestion? Who cares! We're looking for action, not reaction.
Duration: Keep doing this throughout the 21-day program.
This is your first step to the top of Mt. Shagability.
Let's take the second one…
Day 2 Assignment
Go out of your way to say hello to acquaintances
Make the physical effort to say hello when you'd normally wait for a more convenient time. I'm talking about that acquaintance on the other side of the coffee shop. You'd say hello if there weren't so many people in the place. Or that friend in the gym–you'll say hello when you get a chance. STOP. Move your body. Get up and say hello. Get used to acting immediately. Without thinking. This skill will pay handsome dividends. You'll understand why later.
Goal #1: Get used to acting spontaneously.
Goal #2: Make people feel special. Remember the last friend who went out of his way to say hello? How'd it feel? Like you were valuable and worth coming over for. Give other people that feeling.
Day 3 Assignment
4. How To Meet Gay Guys
See the hottie in the corner? You're going to learn conversational techniques that'll open him up like a soda can. They're called 'openers' or icebreakers. They're the start of a sequential process that propel you into a fun, entertaining conversation.
Welcome to the start of your love affair with words.
Day 6 BRIEFING:
A New Approach To Talking With Attractive Guys
Assuming Rapport
Gay dating tip: The ability to "assume rapport" is one of the most useful social skills you can have. It will literally open doors for you in your dating, business and personal relationships.
Rapport is an emotional bond based on a shared understanding. The best way to get it is to pretend you've got it. Don't seek it; assume it. Rapport seekers fish for a connection by asking yawners like "What's New?" "What do you do?" and "Where are you from?" If you've ever been on the receiving end of those questions from a guy you don't know–and aren't sure you want to—it feels as if somebody's checking your pockets to see if you've got change for a dollar. It's way too invasive. Don't do it. Act as if you know him. Talk to him like you used to ditch class together.
People who have genuine rapport don't talk in meaningless questions. They talk in statement form or in meaningful questions. Let's say you're at a grocery store and you spy a hottie:
Asking for rapport: [directly approaching him] "Hi. I'm Mike. What's your name?"
Assuming rapport: [holding the bottle and asking indirectly] "What's up with 1% milk? Is it really any better than 2%?"
Asking for rapport creates a try-hard energy. Assuming rapport creates camaraderie.
Pickup Lines: The Equivalent Of Asking Him For Sex
"I hope you know CPR because you take my breath away."
Pickup lines don't work. Don't use them. Ever. They're nothing but comedic one-liners and they practically skywrite your intentions. If you use a pickup line with somebody who doesn't know you –and isn't sure he wants to–he's going to shut you down faster than a unionized Wal-Mart.
While we're on the subject of WHAT NOT TO DO, a good opener never subjects Shagability to a barrage of questions like what's your name or what do you do for a living? Generic questions like that are the equivalent of asking, "How about some dick?"
Now, there's always room for a direct opener ("you're hot, what's your name?"), but they only work if the guy's showing you more interest than a Bank of America savings account.
For every one else, striking up a conversation must be disarming, non-threatening, and most of all, non-sexual. It can't be perceived as an attempt to pick up. If you're not a threat, Shagability will have no problem talking to you. And talking is the first step to knowing you.
Let's take a close look at the difference between a good opener and a bad one. Which would make Shagability want to talk to you?
Opener A: "Hi, how are you? What's your name?"
Opener B:
Meet Gay Guys
The Importance Of Perceived Value
Making The Psychological Phenomenon Of "Social Proof" Work For You
I give you two scenarios:
SCENARIO #1
You walk into a bar alone, look around, don't see anybody you know, walk over to the corner of the bar and stand by yourself. You then approach a good-looking guy with the perfect "opener" but you get shot down.
SCENARIO #2
You walk into a bar laughing with two friends. You're greeted by a couple of acquaintances and merge with another small group. You then approach a good-looking guy with the same "opener" as Scenario #1 and… you leave with his phone number.
What's up with that?
The difference is a concept called Social Proof. In the first scenario you didn't have any perceived social value. In the second, you did. You subconsciously 'proved' to other guys that you're warm, interesting and fun–somebody worth knowing. How do they know this? Your friends. They're evidence of value. The more friends you have, the more perceived value you have.
Social proof is a well-studied psychological phenomenon. In the absence of reliable information, strangers judge you by whom you're with and how they react to you. If you're surrounded by good-looking people having a good time, your perceived value goes up. If you're alone, circling the bar like a predator, your perceived value goes down.
Social Proof is why you can't stand going out to dinner by yourself. Subconsciously, you know you're being judged as a boring, no-fun loser and my God, who wants to date THAT?
The movie Legally Blonde has a classic example of social proof. Reese Witherspoon pretends she's heartbroken that an ugly guy broke up with her, causing the women around her to instantly want to know the guy– somebody they were previously ignoring.
Bars "social proof" by artificially creating lines outside the door even though they're half empty inside. People think, "Gee, the bar must be worth going into because there are so many people waiting to get in."
There is a fundamental attribution error in social proof (you can be an ass and still be surrounded by fun people; Wheaties will not make you athletic, even if Michael Phelps tells you so), but it exists and you're a fool to ignore its power.
Bottom line: Go out with friends. Social proof is the single best way to ensure that Shagability will respond positively to your opener.
But wait! What if you can't go out with friends? What if they're not available? What if you're new in town and don't have many friends? Or out of town and don't know anybody? Or coming back from a straight function and stopping by for a drink?
There's a simple solution…
Gay Dates
A bit of gay dating advice: People never get tired of hearing about themselves. Especially when you can teach them something about their own lives. "Demonstrating value" is a conversational technique that gives the listener fascinating insights into the human condition.
Namely, theirs.
Day 14 BRIEFING
Teaching Him Something About Himself
The Concept Of "Demonstrating Value."
The world is divided into two kinds of people: Those who take value and those who give it. Guess who's likeliest to meet good-looking guys? Here's what I mean by giving value:
Make his night more interesting than before he met you.
Demonstrating value is always centered on telling people something about themselves. You're either confirming something they've always felt or helping them discover new dimensions about their lives.
The value demonstrations you're about to read are best used after an opener though in many instances they can be used as the opener themselves. Let's start with my favorite, the Ring Revelations.
You've opened Shagability. It's time to leave (honor your time constraint). You spontaneously notice the ring on his finger. You say: "Hey, before I leave, I'm curious, why did you choose to wear that ring in that particular finger? Because you know, it says a lot about you…"
You'll hook him–who doesn't want to know what their choice says about them? Let's say he's wearing the ring on his thumb.
You: Wearing a ring on your thumb means you've…
Read More about demonstrating value…
How To Meet Gay People
Once you've mastered the opener and the value demonstration, the conversation will settle into its own natural pattern. Energize your chats with a few simple rules and avoid talking like you've got the personality of a Kansas zip code.
Day 20 BRIEFING
The Concept Of Multiple Threads
The trick to preventing conversational dead-ends is to jump from one subject to the other BEFORE any one subject dries up. You do this all the time with good friends–you just don't realize it. Here, look at the difference in conversational styles between:
You and a Stranger…
You: Have you been to that new boutique hotel downtown?
Stranger: No, I haven't. Have you? (continues thread)
You: Yeah, it's pretty rad (continue thread)
Stranger: What makes it so different? (continues thread)
You: It's got a pool in the middle of the lobby. (continue thread)
And you and a good friend…
You: Have you been to that new boutique hotel downtown?
Friend: Oh yeah, I …
Where To Meet A Gay Man
You started out with no confidence/low competence and 21-days later you're approaching high confidence/high competence. If you're not there, you will be with these troubleshooting tips. If you are, take the time to refresh and review. The "get" can easily slide into "forget."
Day 21 BRIEFING
Tune-Ups, Troubleshooting And The Trickle Up Theory
There's no such thing as getting it once and having it stick. You get, then you forget. It's normal for approach anxiety to return or to forget an opener or flub a value demonstration. The only way to get better is to take more shots and play more games. Get on the field. You can't win from the bleachers.
Common Sticking Points
Gay dating tip: You've turned the portal back into a goal. Approach anxiety will cover you like the dew if you turn Shagability back into a win/lose, succeed/fail goal. Remember, Shagability is not a goal. He's the opening to the next moment in your life. Visualize him as that beautiful blue portal I showed earlier.
You're waiting for confidence rather than building competence. Simply reading the material isn't enough. You can read theory all you want, but if you don't actually get on the field and practice you won't learn anything that pays dividends. Confidence is the wake left by competence. If you want it, drive the boat.
You're going out alone. Don't. You'll look like a predator circling the place, you'll collapse onto yourself, and your social proof will seriously rupture. If you have no choice but to go out alone, then make friends at the bar. Then, approach guys you're interested in.
You haven't truly memorized the openers or the value demonstrations. So you flub and founder. I understand your natural…
First Gay Date
This is a one-pager you can print out that'll remind you of the central concepts on successfully meeting gay guys. Handy as heck, it'll prompt you into confidence and action!
Want A Better Deal?
Then Try Our 3 ebook Bundle Full Of Gay Dating Advice!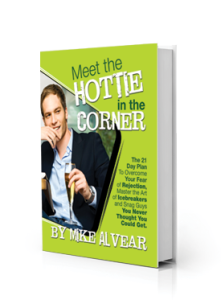 MEET
Have more sex, get more dates, or find a husband with this step-by-step manual that shows you how to approach, meet and attract beautiful gay men. From getting rid of fear of rejection to knowing exactly how to start a conversation, this is the ultimate gay dating blueprint. With glowing reviews from The Huffing Post ("A sensational way of meeting gay men!") no wonder it's the #1 best selling gay dating ebook in the U.S.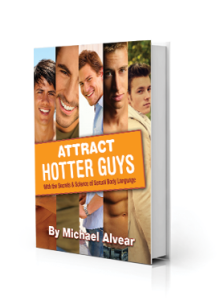 ATTRACT
The first and only body language guide for gay males. It's packed with inventive body language strategies proven to make you more appealing and approachable. Learn which gestures, postures and expressions attract gay men–all based on peer-reviewed studies done by leading psychologists in non-verbal communication. Are you sending 'go away' signals? Your approaches turning guys off? This same gender guide will help you figure it out.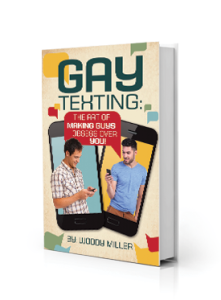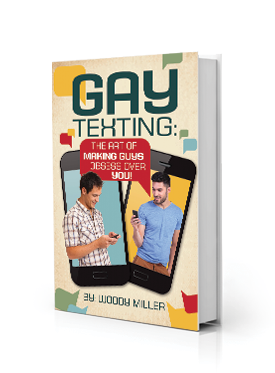 TEXT
Now that you've met the hottie it's time to text! Capture his imagination, stir his curiosity and build attraction with a blend of clever, thoughtful texts. It'll reveal your personality and make him think, "Wow, this guy is really special!" This guide chock full of gay dating advice will show you how–along with solutions to common problems like dealing with indecisive guys and turning his ambivalence into passion.
Regularly $60 purchased separately
Steve Trippe, 25, San Francisco
"Hi, Mike. I'll admit I was skeptical at first, but dammit if those openers don't work! I feel SO confident now when I go out. That's unusual to say, being gay in a small town. You were right about practicing the value demonstrations on friends first and then trying them on guys I wanted to meet. I have met three way cute boyz just this week that I NEVER would have approached before I downloaded your ebook."
Jonathan, 36, New York
"Hello Mike, "I was so painfully shy about talking to guys who share my sexual preference…The thing that broke through for me was the visual you said I should hold whenever I see a cute guy I'm too afraid to approach. I swear, ever since then it's just come so easy. There is literally not a weekend that goes by that I don't have a big ol' gay date or that I'm not setting one up. It's just a matter of time before I meet my soulmate. Thanks for teaching me how to pick up a gay guy-You ROCK, Mike!"
Devin, 42, London
"Dear Mike, My hookups were almost always a product of patience and prayer-IF I waited long enough-and prayed hard enough-a cute lad would come up to me. Well, sometimes months would go by! But your ebook helped me take charge of my dating life. It's like a manual for the gay seduce. Now, I don't wait, I don't pray. I go right up to the cutest chaps and start talking to them. I'm not going to lie and say it works every time but even when it doesn't, I've become friends with them, and then they introduce me to THEIR friends. Awesome! THANK YOU!"

I'm Mike Alvear. I co-hosted HBO's The Sex Inspectors and authored three mainstream-published books, including the gay sex advice book, Men Are Pigs But We Love Bacon. I'm also a syndicated gay relationships columnist and author of the best selling ebook, Attract Hotter Guys with the Secrets & Science of Sexual Body Language.
But more importantly, I'm a guy who's struggled with the same issues you have. I was terrible at meeting gay men that turned me on. It was excruciating for me to approach guys. Once, somebody actually walked away from me as I was talking! I was so humiliated I never approached another man unless he showed interest first. I simply didn't know how to pick up gay men.
One day I got sick of waiting for chance to strike. I wanted to learn how to approach and hold a conversation with guys whether they showed interest or not. I interviewed men who knew exactly how to pick up gay guys. They could walk into a bar, a club, or a coffee shop and leave with a number, a hope or a man.
I asked them what worked, what didn't, and how to handle rejection. I talked to psychologists, sociologists and body language experts. I watched, I observed, I researched. I studied, learned, revised. I lathered, rinsed, repeated.
I got so good I started coaching guys on the art of attraction. This gay dating advice ebook is for all gay men who don't seem to have any luck–whether they're younger or older. I don't want you to spend another lonely night in a gay bar (or anywhere else). I don't want you standing there without the confidence to meet gay men or talk to them in captivating ways. These are skills I can help you acquire. Try the techniques in my ebook. Download it right now. If you're not happy with the results I will personally issue a refund. That's my promise to you.
All the best,

Excellent! You won't believe how confident you'll be the next time you go to a gay bar, a party or social event. Trick, date or husband, you'll have the confidence and more importantly, the knowledge, charm and skills to meet the guys that turn you on. No more standing around waiting for someone else to make the first move. Your love life is on its way to the top of the mountain!
P.S. –Meet The Hottie in The Corner gives you wildly inventive ways to meet, attract and connect with gay men that turn you on. It is a step-by-step manual packed with strategies to eliminate the fear of rejection that keeps you from approaching hot guys and gives you the skills to know what to say and how to say it. Grab it here. Stop 'settling' for the guys you're hooking up with and learn how to approach hotter guys and charm the pants off them!

Gay Dating Advice Resources
Knowledge is power. Get a little knowledge get a lot of power. In that spirit we present the most comprehensive resource list for gay dating. From books and articles to apps and sites you'll see an amazing collection of knowledge and wisdom. Enjoy!
Gay Men's Guide to Love and Relationships
How to Survive Your Own Gay Life
Adventures of Priscilla, Queen of the Desert
Woodpecker Media Publishing
1579 Monroe Drive Suite #F-501
Atlanta, GA 30324
Copyright 2020 | Woodpecker Media | All rights reserved