Best Angle Of Entry For Anal Sex
What angle should your partner's penis enter you? Straight in? Pointing up? Down? Dyed, fried and laid to the side?
There is one—and only one— angle the penis should go in and it doesn't matter what position you're in or how much you've straightened your S-curve:
About 45 degrees away from your navel.
Why? Because it prevents the penis from hitting the front of your rectal wall, near the navel, where your prostate sits. Look:
Illustration: Penis Hitting Front Wall of Anal Canal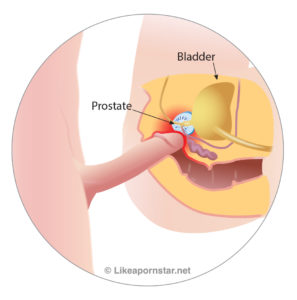 Unless you guide the head of the penis away from the navel it will hit your prostate, an incredibly sensitive organ. You can't angle his dick too much the other way because then it'll hit the back of the rectal wall.
Illustration: Penis Hitting Back Wall Of Anal Canal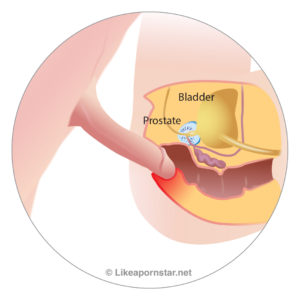 Remember your finger poking your left palm at ninety degrees? When you moved the back of your left palm toward the floor by 45 degrees it straightened the S-curve, making it easier to proceed, albeit with some friction.
But when you raised the angle of your right finger by 45 degrees? Magic! It slid along the "rectal wall" of your palm easily and without resistance. If you want to understand how this works for real, get in the shower with a lubed up finger.
Squat and insert your finger toward your navel.
Doesn't feel so good, does it? You're hitting the prostate which sits just on the other side of the front rectal wall, near your navel.
Now insert your finger away from your navel.
Doesn't feel so good, does it? You're hitting the back of the rectal wall.
Now this time insert your finger away from your navel by about 45 degrees. Notice you didn't feel a stabbing sensation? Nothing hurt. That's because your finger went in through the "hallway" between the front and back rectal wall.
If your partner penetrates you with his dick pointed at the correct angle it will look something like this:
Illustration: Erect Penis Penetrating With A 45 Degree Angle AWAY From Navel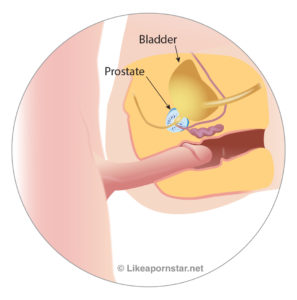 Now there's an image that'll make a non-smoker light up a cigarette! Notice how everything fits tight and right. The penis isn't hitting the prostate or the back of the rectal wall. Like a good running back, it's running up the middle.
Pain-free penetration is a matter of degrees. Not too far up, not too far down. Think of it as the Goldilocks version of fucking:
Too High

Too Low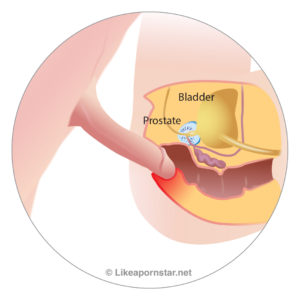 Just Right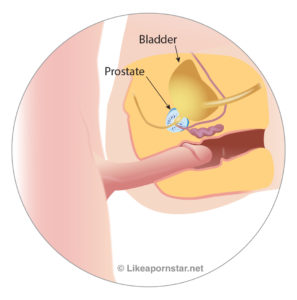 This knowledge is going to be rocket fuel for your love life. Mario is jumping up and down with joy and Prince Prostate is gushing at the thought of producing more milk than a dairy farmer.
Everybody's happy except King Virgin, last seen requesting flood assistance from FEMA because he knows it's going to be raining men.
Important Links
Best Angles of Entry for Anal Sex
Should You Use Poppers to Bottom?
The Best Way To Loosen Your Sphincter
How To Relax Tight Sphincter Muscles
To Loosen Your Sphincter You've Got To Strengthen It First
Real Men Don't Bottom? How Toxic Masculinity Can Derail Your Sex Life